Direct Cyrrent Integration Ammeter
Trader

[KooSoo Heavy Electric Co., Ltd.]

South Korea
Product Detail
Information
1) Summary
As equipment that is able to measure the amount of electric current when coating, the output of electric current from the rectifier is multiplied and displayed allowing for the application as polish providing equipment and for the checking of gold consumption. It shows the amount of electric current flowing through the tank at PRESET value and continually integrated at TOTAL and coats an equal supply of polish manually and automatically.
2) Characteristics

Clear digital display on front surface with no operational switches.
Shows the input value and total amount.
Has a memory chip inside in case of blackouts and is able to be continuously used.

3) Purpose

The quality of coating is improved as the amount of polish is supplied according to the amount of amount of electricity used in comparison to the amount of electric current used or the amount of heat set.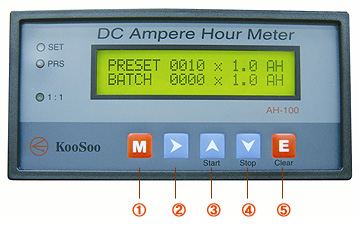 4) Detailed Functions
Able to operate when integration is set to STOP and is used at each variable in the system.(menu key)
Used when changing the indication form of regular movement mode.
Used when starting integration.
Used when stopping integration.
Only functional when integration has stopped and used when the integration amount at current section is erased to 0.
erased to 0.